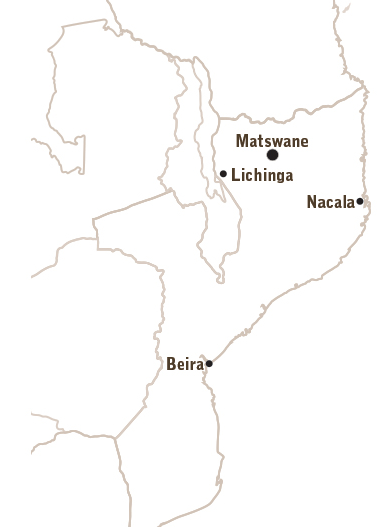 The Marangira Concession is located 130 km south of Tanzania' s Selous Game Reserve and stretches over roughly 400 000 hectares, bordering on the Niassa National Reserve to its north. The development of this enterprise started in 2006 and several small local communities form part of it's fabric. As a company
Matswane Safaris works closely with local leaders to assist them in community projects such as supporting schools with equipment, honey farming, harvesting community quota etc. In addition we strive to promote awareness regarding the importance of sustainable hunting as a land use reform in the region.
Guests can expect nothing but leisure and relaxation in our main camp, Marangira, where we cater for all creature comforts and our team will welcome you with true Mozambican hospitality. Temporary or fly camps are also erected each year based on game movements in order to improve on hunting opportunities. The untouched, natural beauty of this landscape makes it one of the finest hunting destinations in Africa and is home to a vast variety of huntable species, several of which are endemic to the region including Bohms' Zebra, Johnsons' Impala and the Nyassa Wildebeest.
At Matswane Safaris we believe in the traditional and ethical walk and stalk hunting method and hunters need to be fit as conditions in this stunning landscape with its granite Inselbergs, seasonal rivers and lush seepages can be challenging. Our hunting season is from June until the end of November.
At Matswane Safaris we pride ourselves in doing things the old fashioned way by paying attention to each individual visitors personal requirements and ensuring that their expectations are met in every way possible. With the support of our highly trained, experienced team, from office staff to professional hunters, as well as a solid infrastructure we are committed to making your African safari the experience of a lifetime!
Travel & Transport Arrangements
International flights are available from Johannesburg, South Africa, on South African Airways and Mozambiques' local airline, LAM. Most hunters access Marangira via Lichinga and then do a five hour road transfer to our main camp, which is based close to a provincial road. Alternatively one can charter an small aircraft to fly to our bushstrip from Pemba.